Above Everywhere are licensed & insured aerial video & photography specialists. Utilising remote-controlled quadcopters / multi-rotor UAVs / drones.
October 1st, 2014
Along with a slick introductory video, details were launched yesterday of the long awaited GoPro Hero4 camera. Many of us already use the Hero3 and Hero3+ on our Phantoms so how will this new camera affect us?
New Features for the GoPro 4
The main draw will be the Black version with it's 4k@30fps and 2.7k@50fps. Given the relatively slow percentage (currently!) of 4k users, the processing power required to edit it and the resultant filesize I don't see ourselves shooting in 4k. However, we've been screaming out for a higher frame rate in 2.7k and the Black gives this to us. Typically, we shoot in 2.7k and then crop/zoom or resize as necessary to 1080P. - the higher framerate is a bonus and should make footage even smoother.
The other welcome addition is the low-light/night quality. If you've ever tried to use a Hero 3/3+ in low-light you will know just how frustrating it is - the footage is awful. However, from the launch video, the night footage looks excellent - it remains to be tested in the field!
Do I buy the Silver of the Black?
Coming in at $499US for the Black and $399US for the Silver, there is little in it cost-wise. However, the big decision is this, the Black offers 4k and 2.7k video, while the Silver has the LCD backpack. Personally, if shooting from a multi-rotor, it really only makes sense to go for the Black as you'll want that higher quality...
GoPro Hero4 Size - can we use it on our existing gimbals?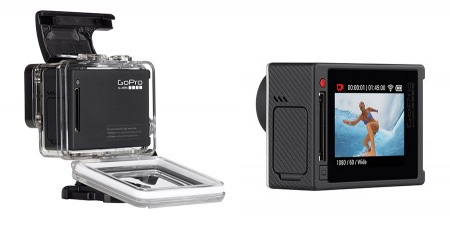 The camera has the same back connector on both the Hero 4 Black and Hero 4 Silver as the Hero 3 and Hero 3+ use. It is also the same size, using a similar sized housing.
MicBergsma released a fantastic video showing both the Hero 4 Black and Hero 4 Silver fitting straight onto a Zenmuse gimbal, so we know that size-wise, we don't need to change our Zenmuse H2-3D or H3-3D gimbals.
The question we are yet to see an actual direct weight comparison, as we know, the Zenmuse gimbals can be very sensitive to weight - even a small lens attachment can be enough to burn out the motors. So, until we see an exact weight comparison we can't be 100% sure they are compatible, but it is looking likely!
What did they get right with the GoPro Hero 4?
4k, 2.7k at decent frame rates (on the Black). 
Ability to reuse existing housings, mounts and gimbals.
LCD backpack (if you go for the Silver).
Improved low-light/night ability.
What did they get wrong with the GoPro Hero 4?
Well, that's pretty obvious straight-away - RAW. Although it remains to be seen how well the new 'Protune' mode works on stills, it is still not RAW. Given the amount of extra information you can bring out with it, it seems crazy that they did not listen and include it. Ho well, we'll have to make do for now and see how it goes!
What do we still not know?
What is the exact weight of the Hero 4 Black to the Hero 3/3+ Black? (and will this affect the gimbal balancing for H3-2D and H3-3D gimbals?) - SEE UPDATE
Do the existing Peau Productions and Ragecam lens conversion fit? Do they assemble/dissamble the same way?
What freedom will the 'Protune' setting give us on still images?
So, do I upgrade my existing Hero 3/3+?
At the moment, it looks like a no-brainer - yes. Merely because of the higher resolutions, frame rates at those resolutions and low-light quality.
What do we want in a GoPro Hero 4+ or Hero 5?
RAW please. It's essential!
2.7k@60fps and 2.7k@120fps.
The ability for the app to view 2.7k footage shot on the camera.
UPDATE - Exact weight of the GoPro Hero 3+ and GoPro Hero 4
A photo by Jonathan Lucan in the DJI Phantom Owners Group on Facebook answered that question :-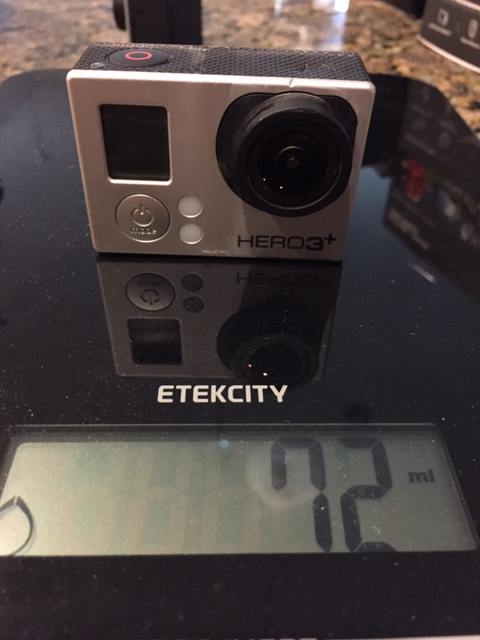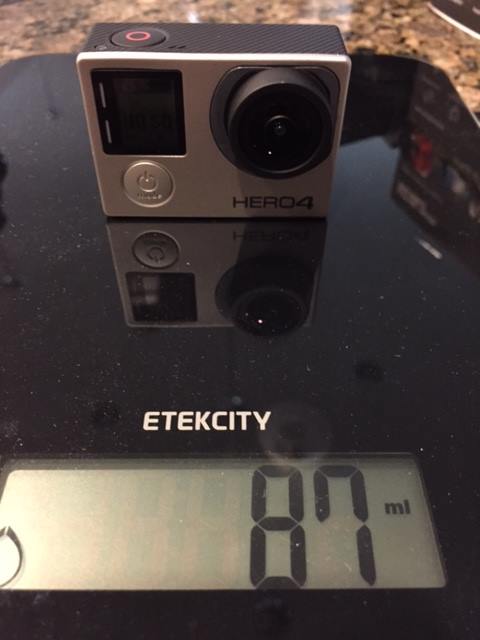 So, a 15g difference. Will this mean we need to rebalance our gimbals? Will it wear them out? Or will there be asbolutely no difference?